Building from the previous success of the SLR-3000 site lights, Unilite has launched a new range of site lights that have quickly become a must-have. These are lights with high lumen outputs, tripod compatibility, and a removable battery. Introducing the SLR-3500 & SLR-5500 site lights.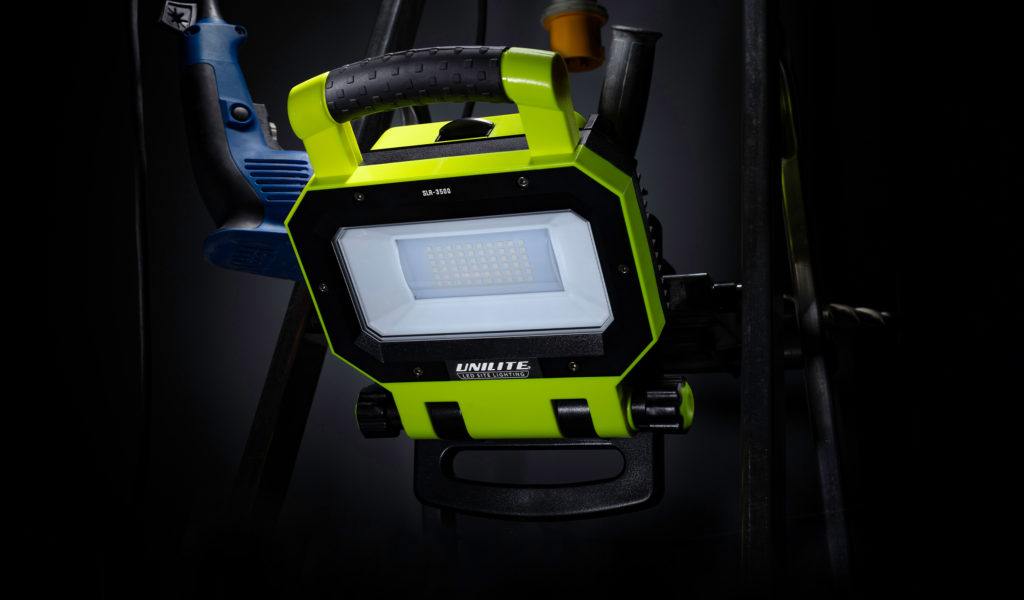 The SLR-3500 is essentially an upgrade of the SLR-3000, with an increased lumen output of 3500 lumens, but with the same 6600mAh battery as before. Thanks to an increase in the efficiency of LEDs, the runtime remains the same at a strong 3-6 hours. The SLR-5500 is a completely different beast with a far brighter 5500 lumen output, but with a 7500mAh battery. This extra battery capacity is needed to keep up with demand from the higher lumen output and ensures it is also able to provide a 3–6-hour runtime.
The overall footprint of the two lights remains the same, as do their looks. They have a practical design, with strong magnetic feet that even King Arthur would struggle to budge when fixed. These magnets as you can imagine will stick perfectly to girders and even to the side of a van. One builder told us of a story that their SLR-3500 made it on a 3-hour long car journey, stuck to the side of his van. When he got out, to his amazement and relief, it was still attached to the side of his van. So, as you can imagine, these two models attach to the side of suitable metal surfaces, as well as vertically.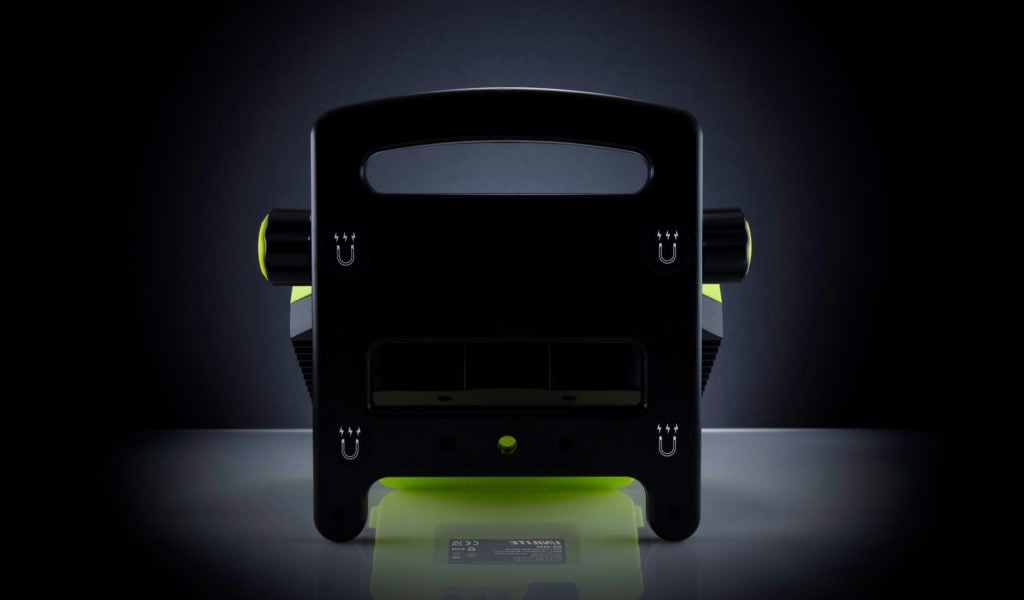 This is exactly how they connect to their suitable tripod…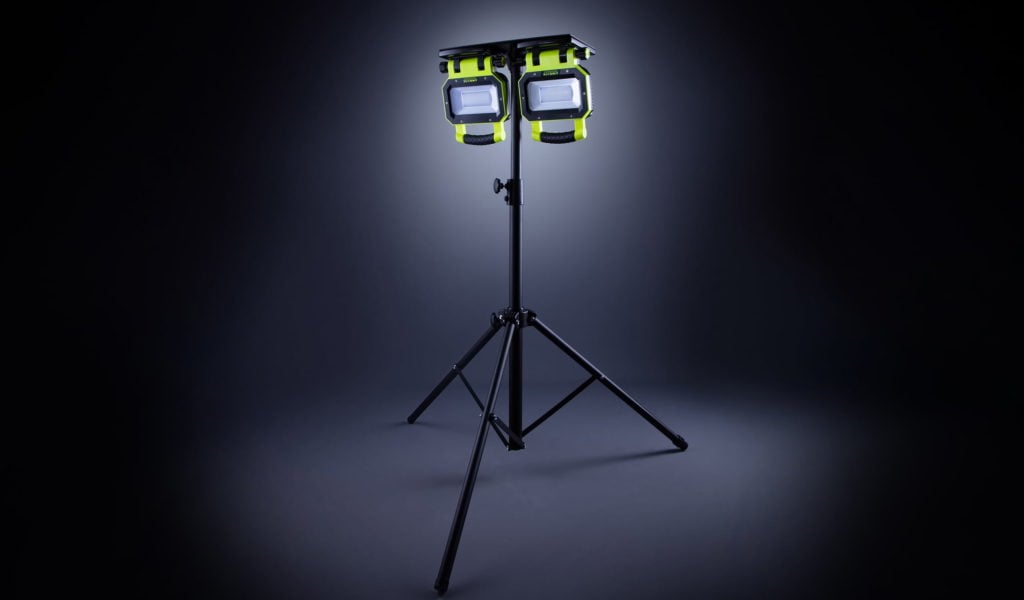 The TRIPOD-360 is a purpose-built tripod for the SLR-3500 & SLR-5500. On this tripod you can fit a total of 4 site lights, with two on top and two underneath. It is essentially a large metal plate on the top of a sturdy tripod. You can choose to direct all the lights towards one target, if you need an extreme amount of light, or to direct the lights around the room to illuminate the whole space.
One of the best features of both work lights is the removable batteries. The batteries simply just pop out the back, allowing you to charge it away from the unit so you can keep spares with you and keep it going for longer. The batteries for both the SLR-3500 and SLR-5500 are interchangeable, so can be used in either model. These batteries, for extra utility can be used as power banks and can therefore charge small devices such as mobile phones, or smaller Unilite models.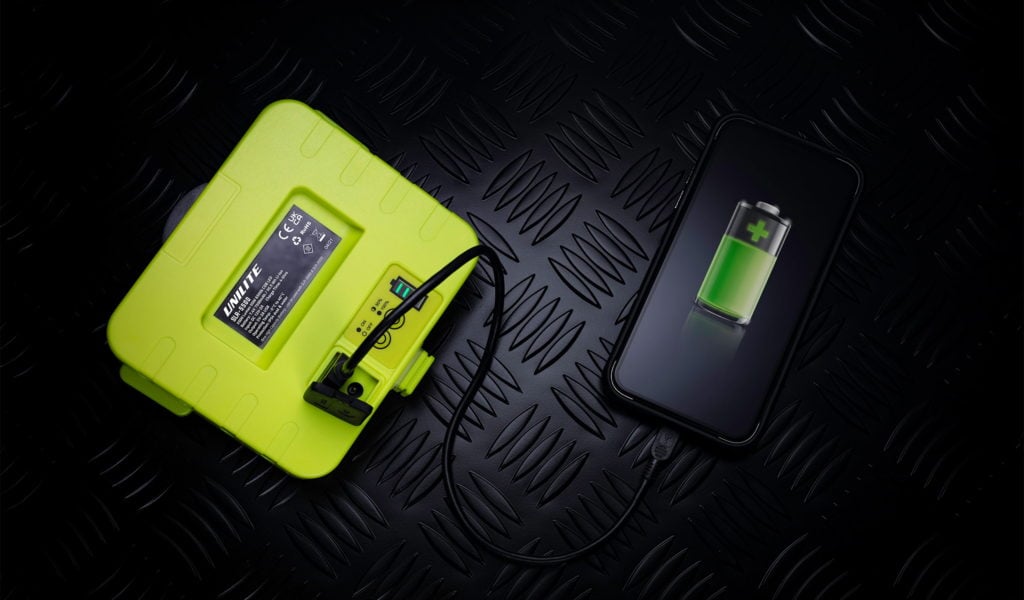 Unilites tag line is 'Lights Built Tough, so it wouldn't be right unless we showcased the build quality of these site lights. They are constructed out of toughened aluminum and polycarbonate. The latter being the main composition, providing a strong overall casing. The aluminum kicks in with some of the finer details, including the heat sink, which helps to dissipate heat and ensure it does not get too warm during operation. When used outside, it also has a solid IP54 rating, allowing a good level of dust and water protection. The final material used is rubber, but this is only found around the top handle. It's built from rubber to act like a grip, so you can easily pick it up, or direct the light downwards, or upwards, depending on your desire.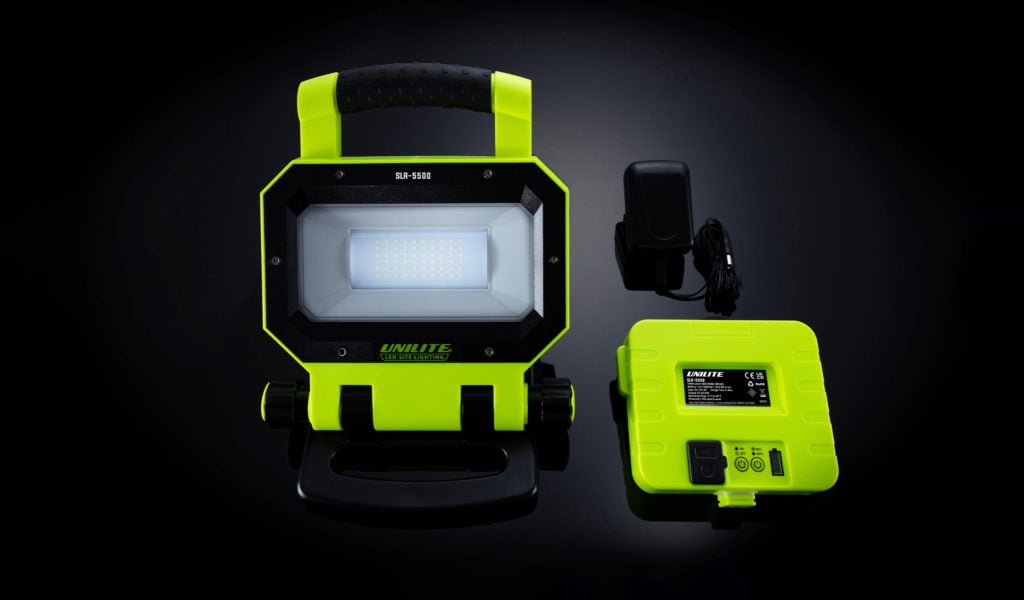 Overall, both SLR-3500 & SLR-5500 are site lights of immense quality. They combine all of the desired qualities you would want from a work light, with a high-powered reliable beam, user-friendly features and a tough build quality. Look at our full range of site lights right here:
Shop Product